19 December, 2011 09.30p.m. by Darcy Ireland
The published recap can be found
here
.
The statistical box-score can be found here.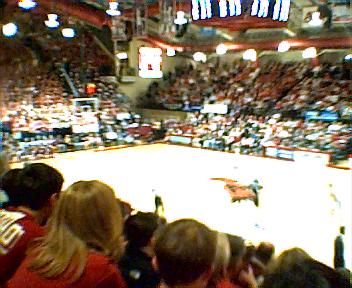 The seemingly never-ending waves of frigid winds bombarded me. The icy fingers of Lady Winter perpetually continued to gently move across my severely chapped hands and determined face. Yet, the cool touch of Miss Winter was the least of my concerns that overcast, chilly Saturday afternoon. As I resumed the long walk, my cellular telephone rang. Dutifully, I answered the alerted device... "Where are you walking?" the voice asked me. I honestly, but concisely relayed my trek up to that time. "If anything happens to you - God forbid that! - just give me a call," the voice kindly responded shortly before I ended the brief conversation. I took a deep breath and kept pacing along Lancaster Avenue. Soon, I noticed some dilapidated houses and businesses, sights which I would see for another hour or two still. Pondering the sights, I made a bittersweet observation: "So this is where Will Smith was 'born and raised!'" Indeed, I was slowly walking through West Philadelphia.
* * *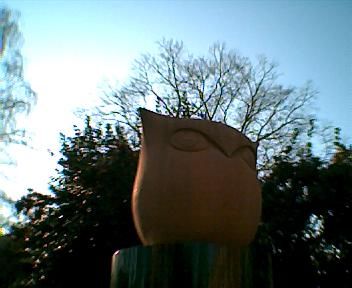 My morning was uneventful enough. I left my friend's apartment very early that Saturday, and began the half-hour walk to the
campus of Villanova University (my aforementioned friend is currently an upperclassman at V.U.), where I had a brief, yet satisfying breakfast of Jasmine tea, cereal, and a banana. Shortly thereafter, I boarded a train at Villanova Station. "Temple University," I responded to the conductor who had asked me where I wished to go. He unhesitatingly and efficiently punched my ticket, and I paid the appropriate fare. Then, I attempted to begin reading a copy of St. Bonaventure's treatise The Journey of the Mind to God while the train meandered towards Temple. Sadly, I was a tad too fatigued to genuinely digest Franciscan theology, given my early start at 6 a.m. Eventually, I could sense the bubbling excitement as the train soon stopped at the eastern edge of the Temple University
campus. Little would I know truly how tiring my walk throughout the city of Independence would be.
Walking about Temple University was simple enough. Sights such as
Liacouras Pavilion and Alumni Circle (see above) happily caught my attention. About an hour later, I began sightseeing throughout the city. A short-list of attractions I walked by and absorbed included, in sequential order, the
Benjamin Franklin Bridge near Penn's Landing,
Independence Hall, the
Liberty Bell, the
University of Pennsylvania, and
Drexel University. It was after having seen the Liberty Bell that the aforementioned voice of concern initially reached my cellular phone (as close to verbatim as I could recall):
"How are you doing, Joe? It's good to hear from you."
Although Mr. Lunardi and I had been planning to meet one another during my brief stay in Philadelphia, it was still quite neat to receive that initial phone call from him. After receiving the call, I was determined to reach him at Saint Joseph's University before he would be confined by media commitments (he works on press row during Saint Joseph's games, including that night's game against Villanova), and still hit the rest of my short-list of sights to see in the process. Ultimately, I was somewhat successful, as this bronze
fellow
- a fixture within the University of Pennsylvania campus - could attest to. It was under that set of circumstances that I began the three-hour trek from the University of Pennsylvania to Saint Joseph's University, strolling through West Philadelphia.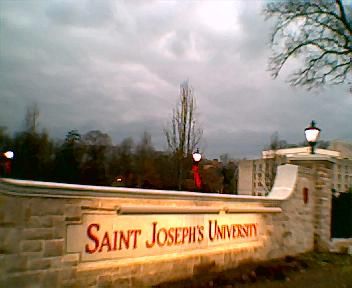 Not long after tea-time, at 4 p.m., I safely arrived at Saint Joseph's University. More accurately, I ceased my stroll in front of Hagan Arena, where a red-clad
congregation of S.J.U. students had gathered, more than ready to cheer their Hawks to victory over their Big 5 rival from Villanova Township. Through another cellular conversation with Mr. Lunardi, I found out that he had kindly claimed a 'will-call' ticket for me. While waiting for the 'will-call' section to begin distributing its allotment of tickets, I struck a conversation with a fellow who shortly thereafter waltzed into the room. The lawyer, who is currently writing a book on collegiate rivalries, was impressed with my story, particularly with my perhaps insane trek throughout the City of Brotherly Love. Likewise, as a writer, I was quite pleased to meet the author of a book, pertinently on collegiate sports. While we were conversing, I received another call from my
former bracketology professor
. During this chat, we had the following exchange:
"Darcy, have you ever had a Philly cheesesteak?"


"Actually, no, I haven't."

"I'm about to buy you your first cheesesteak!"
That was that. Before I knew it, the author (whose name I have chosen to keep safely anonymous), Mr. Lunardi, and I were at Larry's Steaks, a St. Joseph's staple across the street from Hagan Arena, chatting over Philly cheesesteaks. We had a wonderful time, really. At one point on our conversation, the historic connotations of that night's game were raised. The game we were at S.J.U. for that night would be the first edition of the Big 5 series between Villanova and Saint Joseph's in which the teams would not play at Villanova University or at the infamous Palestra. As Mr. Lunardi would tell me, only S.J.U. season ticket-holders had direct access to this particular game, thus explaining why any other attempts to attend the game would be quite difficult to undertake. He also noted that in a previous decade, the Palestra used to host double-headers. An example he cited was one in which Pennsylvania hosted Yale in the earlier game, and Villanova 'hosted' Notre Dame in the later game. (Another example, albeit a similar one, can be found
here.) Although I knew the historical significance of that night's game at Hagan Arena, the fact regarding the double-header slates of old at the Palestra was a welcome addition to my memory.



"What do you think of the cheesesteak?" Mr. Lunardi eventually asked me. My consensus? "Fantastic!" A half-hour passed before Mr. Lunardi had to venture back to Hagan Arena for media commitments. The three of us paced back to the back entrance of Hagan Arena, where we said our good-byes for the moment. During the two hours' time before the game was to tip, the author and I tried to entertain ourselves near the 'will-call' room while a contingent of the 'diehard' students, cheerleaders, basketball players, and recruits flowed through. Even before the game was to tip, I could sense the excitement buzzing throughout Hagan Arena. It seems that St. Joseph's is in for a good show, I thought as I found my thankful seat in the upper rafters of the cozy
arena. A few hours later, I would find myself to be quite correct.



The game itself was quite close in the first half. Although the Hawks did a noble job capitalizing on its opportunities to collect defensive rebounds, and even though doing so helped Saint Joseph's to a 26-15 lead with about six minutes remaining in the first half, the Wildcats went on a 6-0 run to make the tally 26-21 about a minute later. Villanova sophomore guard James Bell missed a three-point shot attempt at the half-time buzzer,
thus leaving the half-time tally at Saint Joseph's 30, Villanova 27.



The half-time session was surprisingly enthralling. A Saint Joseph's student, a Mr. Andrew Blackmon, was assigned to make a half-court shot, something he did on his first try. Perhaps in an attempt to upstage Mr. Blackmon's amazing performance, the Hawk mascot made a one-handed free-throw on his first try. All these feats dazzled me while the student section sang along to the 'Hawks Go Flying In' fight song. If I had thought that the half-time session was fun, I was in for a treat in the second half, as was the rest of the Hawks fans in Hagan Arena.



A dunk by Saint Joseph's forward Langston Galloway began the second half of the game, setting the tone early for what would ultimately be a blow-out win by the Hawks. A put-back, two-handed dunk, again by Galloway, fueled a 9-2 Hawks run, which sent the crowd into an electric frenzy. With about seven minutes remaining in the final half, Hawks sophomore forward Ronald Roberts, Junior ran towards the basket, but threw the ball behind his back, which was caught by sophomore forward C.J. Aiken for a slam dunk, to make the tally 60-49 Saint Joseph's. The slam dunk essentially symbolized how much better the Hawks were than the Wildcats.



A few more sweet treats helped cap the event. First, two Villanova fans were escorted from the arena by a referee with over three minutes remaining in the final half. Additionally, at about the same time, the student section displayed a paper banner which noted that this year's edition of the Villanova Wildcats, which represents a university established by the Augustinian Order of the Catholic Church, had lost to three Jesuit Catholic colleges:
Saint Louis,
Santa Clara, and now
Saint Joseph's. Finally, with about a minute left, Aiken missed a dunk; nevertheless, the forgiving crowd cheered the all but completed win by the Hawks over the Wildcats.



Once the buzzers sounded, the score read: Saint Joseph's 74, Villanova 58.



After the game, I met Mr. Lunardi by his spot on press row. He and I both agreed that the game was exciting, the Hawks were impressive, and Villanova would need another year or two before the Wildcats could be formidable again. Mr. Lunardi and I said our good-byes, and I rushed to find the aforementioned author, who was kind enough to offer me a ride back to my friend's apartment in Villanova Township.
During the short ride back to Villanova, the author had to make one relevant note regarding my day:
"Just thinking about your walk makes me tired!"
When I had thanked him for his kindness in driving me back to Villanova, he remarked that his driving me certainly would be better than attempting to walk nearly two hours from Hawk Hill to Villanova Township. Certainly, given the permeating presence of Lady Winter outside the window, having to walk from one point to another in the City of Brotherly Love in that dark, cold, and wintry night may not have been in the best interest of my health. Still, that earlier stroll through Philadelphia was well worth the time spent, given the rewarding, unique experience within the cozy confines of Hagan Arena. That crisp night, I realized that for what I had experienced, I hadn't really walked approximately fifteen miles for no reason whatsoever. No, it was with a unique purpose that I had walked like as if I had really taken flight on hawk's wings.
"What a helluva way to fly,


"The Hawk will never die!"
Author's Note: Mr. Lunardi and I had a picture taken together. However, I was unable to include the picture with the article in time for its publication. When I am able to,
I'll provide a link to the picture in swift course.